German Fermentation Crocks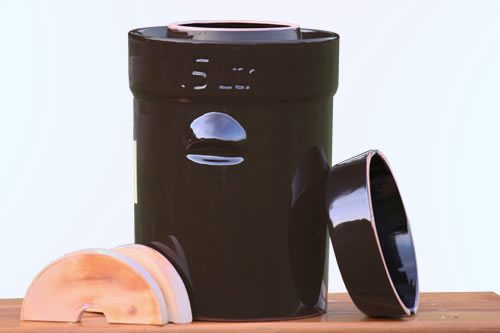 | | | | |
| --- | --- | --- | --- |
| Size | Inside Diameter | Outside Diameter | Height |
| 15 Liter | 5 7/8" | 10 1/2" | 14" |
click to select crock size



These crocks can be delivered anywhere in the Contiguous United States.
Your german-made ceramic crock is shipped from Virginia by UPS to arrive within four to eight business days of our receiving your order.


Each ceramic crock pot comes complete lid and two semicircle interior ceramic weights for submerging contents in brine. Made with easy to clean ceramic stoneware that's impervious to water, this prevents unwanted yeast and mold development.
The genius crock design incorporates a raised lip and fitting lid. Once the lid is placed on top, water poured into the grove creates a seal that prevents all air contaimanation from the outside (read more about crock lid styles here). This design has proven to be a a very efficient method for preventing the surface growth of anaerobic yeasts and molds (read more about edge mold growth and what to do about it).
There's something brilliant about the inherited shape and function of this beautiful sauerkraut crock or pickling crock that connects the user to thousands of years of cultural process. A very nifty way to ferement, indeed! Read the pro / con tradeoffs between fermenting crock styles and shapes.
Care and Use
Fill crock up to three-quarters of the way full before placing weights inside to begin.
Crock and weights are easy to clean by dusting off remains or by washing in warm water (then left to dry) after each use.
These traditional ceramic earthenware crocks are covered with a lead-free glaze. Manufactured in Spabrücken, Germany.

You Might Also Like

One Gallon Crock Weights
$9.99

Item #: Opco11655

Five Gallon Crock Lids
$19.99

Item #: Opcl5L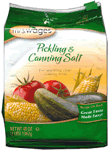 Mrs. Wages Pickling and Canning Salt
$4.49

Item #: OpcW510