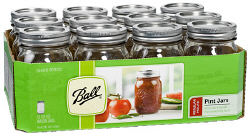 Palleted Canning Jar orders are handled differently than a normal order. As such our shopping cart will not calculate freight charges for the orders. The cart will calculate the shipping charges for any other items you may order.
These pallets ship by Freight Truck



Glass jars specially designed and heat-treated for use in home canning. Ideal for fresh preserving recipes such as salsas, syrups, sauces, fruits and vegetables. Ball's famous glass jars and closures go beyond fresh preserving to help you with serving, creative décor, and gift-giving. Mason canning jars sold in pint and quart sizes. Includes one dozen jars, bands and lids. Caps, lids, and rings are interchangeable with Ball or Kerr mason jars. These jars are not suitable for freezing.
All Jars come with Lids and Bands. These pallets may not be mixed or combined, only whole pallets.

Item

Case Pack

Cases Per Pallet

Jars Per Pallet

Half Pint (8 oz)

12

84

1008

Pint (16 oz)

12

112

1344

Quart (32 oz)

12

50

600