Vintage Cook Rite Pressure Cooker
Louise from Oak Park, IL shared these photos of her OLD Cook-Rite Pressure cooker. Could not find a model number. It appears to be about a 16 quart, and can take 7 quart jars. The patent number does not pan out on the US Patent Office site. Maybe digits were transposed. Louise is not sure how long she has had this pot. She remembers getting it at an estate sale and was recently rediscovered in a deep upper kitchen cabinet. She is hoping to connect with someone else who has and uses one of these. She doesn't have a manual and would like to know for sure whether there's no need for a gasket in this design. Louise explains she hasn't used the canner yet and is trying to determine where to get the gauge tested. County USDA does not have a way to handle it.
Louise has made jellies and jams for years, but hopes to use this canner to can soups, chilis and salsas. She likes to cook and would prefer to have options for various delicious meals when I'm not in the mood to cook.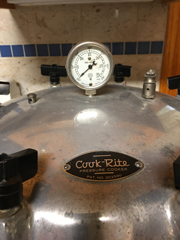 Do you have a model you'd like us to list? email us!